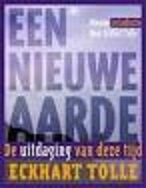 Introductie
Van mijn goede vriend en buurman Guus van den Tweel ontving ik een poosje geleden een boek. Het is een boek dat hem persoonlijk zeer aanspreekt en waarover hij bijzonder enthousiast is. Hij is benieuwd wat mijn mening over dit boek is. Het is een boek van Eckhart Tolle. De titel van het boek is 'Een nieuwe aarde' met als ondertitel 'Dé uitdaging van deze tijd'. Tolle is een van oorsprong Duitse leraar en auteur. Tolle heeft al een aantal publicaties op het gebied van spiritualiteit op zijn naam staan. Thans woont Tolle in Vancouver in Canada. De Engelse uitgave van het boek getiteld 'A New Earth' stond in maart 2008 nummer één op de bestseller lijst van de New-York Times. De bekendheid en de oplage van de boeken van Tolle heeft een enorme boost gekregen door de bemoeienis van de bekende Amerikaanse talkshow host Oprah Winfrey. Oprah is zeer onder de indruk van de opvattingen van Tolle. Zij beschouwt een eerdere publicatie van Tolle 'The Power of Now' als één van haar favoriete boeken. Oprah was zelfs zo enthousiast over 'A New Earth' dat zij in 2008 samen met Tolle voor dit boek een 'live online seminar' organiseerde. Dat seminar kende maar liefst tien afleveringen verdeeld over tien weken waarbij kijkers vanuit de gehele wereld vragen aan Tolle konden stellen naar aanleiding van dit boek.
De echte naam van Eckhart Tolle is Ulrich Leonard Tölle (Lünen, 1948) . Naar eigen zeggen ervoer Tolle op zijn 29ste een 'spirituele transformatie'. Geen wonder dat Tolle als pseudoniem de naam 'Eckhart' aannam. Dit heeft alles te maken met de naam van de bekende middeleeuwse mysticus Meester Eckhart (ca 1260-1328). Deze Meester Eckhart geldt als een belangrijke, zo niet de belangrijkste, inspiratiebron voor Tolle. Neem een uitspraak van Meester Eckhart als 'Daar bestaat geen worden maar een nu, een worden zonder worden' uit preek 50 van Eckhart, en je herkent meteen dat Tolle deze gedachte heeft overgenomen. Dat blijkt niet alleen in dit boek van Tolle maar vooral ook in zijn eerder boek 'The power of now'. De gedachten van Tolle (al heeft hij een hekel aan het woord 'gedachte') zijn daarom bepaald niet nieuw. We treffen deze gedachten al aan in het gnosticisme, in de beginfase van het christendom. Voorts zijn de gedachten van Tolle doordrenkt met denkbeelden uit oosterse religies, zoals bijv. het hindoeïsme en het (zen) boeddhisme. Dat lijkt echter niet zo. Het boek lijkt op het eerste gezicht veel meer christelijk geïnspireerd. De naam 'Jezus' komt maar liefst 33x voor in het boek en Bijbelse uitspraken van Jezus worden veelvuldig geciteerd. Jezus wordt vele malen meer geciteerd dan welke andere wijsheidsleraar dan ook.
Wat is nu mijn mening over dit boek? Laat ik beginnen met te zeggen dat ik blij ben dat ik dit boek heb gelezen. Ik heb er veel van geleerd. Ook boeken die door oosterse religies zijn geïnspireerd, bevatten veel wijze gedachten waar je veel van kan leren. Zo is de beschrijving die Tolle geeft van de werking van het menselijke ego (later aangeduid als het 'pijnlichaam") zeer trefzeker. De beschrijving van wat Tolle het 'ego' of 'pijnlichaam' noemt en wat dit ego en pijn lichaam in negatieve zin allemaal uitricht, heeft erg veel raakvlakken met de christelijke zonde leer. Alleen in de christelijke leer heet dit 'ego' of 'pijnlichaam' de 'oude mens'. Die 'oude mens' wordt bestreden door de 'nieuwe mens'. Die 'nieuwe mens' kan alleen door de Heilige Geest in het hart van de mens geplant worden.
Het sleutelwoord bij Tolle is: 'Bewustzijn'. Maar liefst 265x komt dit woord 'Bewustzijn' in het boek voor. Bewust schrijft Tolle dit woord 'Bewustzijn' met een hoofdletter. Het woord 'Bewustzijn' krijgt bij Tolle daardoor een haast goddelijke status, net zoals wij de namen van God met een hoofdletter of zelfs met alleen hoofdletters aanduiden. Bewustwording speelt dus bij Tolle een sleutelrol. Het 'Bewustzijn' moet ontwaken in de mens en als dit bewustzijn eenmaal ontwaakt is, dan is dit bewustzijn in staat om het ego en het pijnlichaam van de mens te gaan sturen en omvormen, zodat er een ander mens, zodat er een nieuwe mens en een nieuwe mensheid ontstaat, op een 'nieuwe aarde'. Dat het ego van de mens en het pijnlichaam totaal verdorven en gecorrumpeerd is, daarover hebben we met Tolle geen verschil van mening. Waar we wel verschil van mening over hebben is het feit dat deze 'Bewustwording' waar Tolle het over heeft ten diepste een 'Bewustwording' is die volgens Tolle uit de mens zelf voortkomt. Bij Tolle repareert de mens door Bewustwording' uiteindelijk zichzelf en komt hij op eigen kracht uit de problemen. Wat Tolle propageert lijkt op een patiënt die bij de dokter komt. De patiënt heeft een dodelijke ziekte. Als er niets aan gedaan wordt, sterft de patiënt binnen afzienbare tijd. Maar gelukkig, er zijn externe medicijnen ter beschikking die de patiënt kunnen genezen. Maar wat doet de dokter? Hij geeft deze externe medicijnen niet aan deze patiënt. De dokter zegt tegen hem: 'Je hebt dat externe medicijn niet nodig, je hebt het medicijn in jezelf! Alleen je moet jezelf ervan 'bewust' worden' dat je het zelf kunt oplossen'. Het resultaat is helaas dat als de patiënt het advies van de dokter opvolgt, hij zal sterven!. Want wat Tolle denkt dat die mens in zichzelf heeft, nl. een bewustzijn dat die mens zelf kan activeren en waardoor hij zichzelf, zijn ego, zijn pijnlichaam, kan corrigeren en genezen, dat heeft die mens nl. niet. Dat is nu juist het probleem. Ook dat 'Bewustzijn' is nl. volledig verdorven en gecorrumpeerd. Het middel dat de dokter voorschrijft is erger dan de kwaal. De mens is er nog veel slechter aan toe dan Tolle wil toegeven. De mens is naar lichaam en ziel, in onbewust en in bewustzijn volledig verdorven. Hij heeft dringend hulp nodig die alleen God hem kan bieden. Dat is dat externe medicijn waar ik het zojuist over had. Maar dat is nu juist het probleem voor de mens. De mens is er totaal niet toe genegen om toe te geven dat hij hulp nodig heeft en dat die hulp van God moet komen. Uit zichzelf zoekt de mens altijd redding in zichzelf. Helaas doet Tolle dat ook. Dat is de mens nog nooit gelukt en ook Tolle niet. Heb ik als mens dan geen 'Bewustzijn' nodig. Ja zeker wel!. Maar dat 'Bewustzijn' wordt alleen op de juiste wijze geactiveerd als God de Heilige Geest in het hart van de mens komt. De Geest maakt de mens er dan van 'bewust' hoe belabberd hij erbij staat en wat hij echt nodig heeft: redding door de liefde van Jezus.
Er is dan nog iets wat ik heel erg gemist heb in het boek van Tolle. Dat is de afwezigheid van een persoonlijk God. Een persoonlijk God die een relatie met je aan gaat. Bij Tolle is God hooguit een onpersoonlijke, universele, kracht die Tolle 'Bewustzijn' noemt. Maar een persoonlijk God, een Vader die met je mee gaat door het leven, die ontbreekt. Een God bij wie je, te midden van alle ellende en pijn en verdriet die je meemaakt, troost kunt vinden en kunt schuilen, die ontbreekt. Ieder mens heeft behoefte aan die geborgenheid. Een plaats waar je kunt uithuilen. Een plaats waar je pure onvoorwaardelijke liefde, veiligheid en geborgenheid voelt en ervaart zoals een peuter die troost vindt in de schoot van zijn moeder.
Ik besef dat ik nu veel meer gezegd heb dan dat ik heb bewezen uit het boek van Tolle. Ik heb me daarom voorgenomen om e.e.a. verder uit te werken. Over elk van de negen hoofdstukken van het boek van Tolle zal ik D.V. een weblogartikel schrijven waarin ik meer gedetailleerd zal ingaan op de opvattingen van Tolle. Door een verhandeling te schrijven per hoofdstuk zal ik er niet aan ontkomen soms zaken te moeten herhalen, dit omdat bepaalde grondgedachten van Tolle in een wat andere vorm vaker voorkomen in zijn boek. De lezer duide mij dit niet euvel. Wordt vervolgd………
Je kunt alvast reageren op dit artikel door op onderstaande toets 'reacties'te drukken. Schrijf gerust een reactie, dan kunnen anderen ook online meelezen.