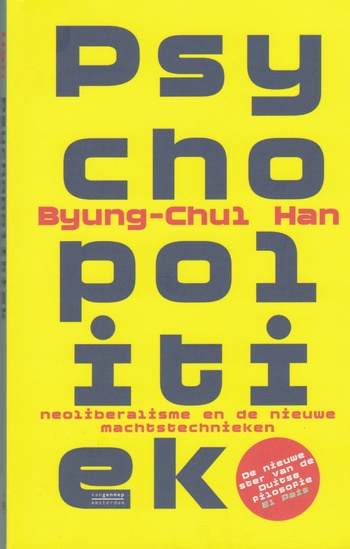 Van mijn zeer gewaardeerde buurman Hien The kreeg ik onlangs een boekje aangeboden ter recensie. De titel van het boek luidt: 'Psychopolitiek' met als ondertitel: 'Neoliberalisme en de nieuwe machtstechnieken' geschreven door de Duitse filosoof Byung Chul Han. Een uiterst interessant boekje moet ik zeggen. Han komt in verweer tegen deze nieuwe machtstechnieken van het neoliberalisme. De argumenten die hij voor zijn verweer gebruikt lijken –zonder dat hij dit waarschijnlijk bedoeld heeft - dicht in de buurt te komen van de christelijke (Bijbelse) argumenten tegen deze machtstechnieken. Of dit werkelijk ook zo is, bespreken we verderop.
Voor de iets minder filosofisch geschoolde lezer leest het boekje wat moeilijk. Veel filosofisch jargon wordt als bekend verondersteld. Een paar van die filosofische termen wil ik eerst toelichten. Wat verstaan we onder 'neoliberalisme'?
Neoliberalisme is een term die sinds de jaren tachtig van de vorige eeuw wordt gebruikt om het – vooral in het westen – toegepaste economisch kapitalistisch systeem aan te duiden. Dit economisch beleid wordt gekenmerkt door een politiek van 'laissez-faire'. 'Laissez-faire' betekent dat in de maatschappij de economische krachten hun vrije loop gelaten worden. Voorts wordt deze politiek gekenmerkt door een hoge mate van privatisering, een terugtreden van de overheid uit de private sector en een vermindering van overheidsuitgaven.
'Biopolitiek' bevat het woord 'bio' dat voor 'leven' staat. Biopolitiek (een term afkomstig van de filosoof Michel Foucault) staat voor een politiek systeem waarin biomacht wordt uitgeoefend. Het biologisch leven van mensen staat hierin centraal en men probeert het leven van de mens door dit economisch en politiek systeem te beïnvloeden en te manipuleren. 'Psychopolitiek' daarentegen gaat veel verder dan de biopolitiek en tracht niet alleen het lichaam, de bios, te sturen en te manipuleren maar ook de psyche van de mens. De psychopolitiek gebruikt hiervoor de moderne massa communicatiemiddelen die het digitale tijdperk ons oplevert.
Maar goed, ik loop eerst even door het boekje heen en plaats hier en daar wat aantekeningen.
Alles staat vandaag de dag in het teken van het presteren. Als je niet presteert tel je niet mee in de maatschappij. Han schrijft (pag.10) dat het prestatiesubject denkt dat hij vrij is. Maar niets is minder waar, in werkelijkheid is hij een slaaf. Dat blijkt volgens Han uit de tegenwoordig veelvuldig voorkomende psychische aandoeningen zoals depressies en burn-outs. Het zijn allemaal signalen dat er een diepe crisis van de vrijheid is en dat zogenaamde vrijheid veelvuldig omslaat in dwang. Han schrijft: 'Vrij zijn betekent echter van oorsprong bij vrienden zijn. De woorden vrijheid en vriend hebben in het Indo- Germaans dezelfde wortel. Vrijheid is strikt genomen een betrekkingswoord. Je voelt je pas echt vrij in een succesvolle relatie, in een gelukkig makend samenzijn met anderen. De totale afzondering waartoe het neoliberale regime leidt maakt ons niet echt vrij'. Op zich klopt het wel wat Han schrijft maar toch zou Han hier meer moeten zeggen. Wil het ooit tot echte vrijheid komen dan kan die vrijheid m.i. nooit zonder 'waarheid' bestaan. Jezus zegt in Joh. 8:32 tegen zijn leerlingen: 'U zult de waarheid kennen en de waarheid zal u bevrijden'. 'Waarheid' betekent weten hoe belabberd je er als mens en als mensheid bijstaat. Je moet weten hoe diep je gevallen bent en dat je daarom hulp van boven nodig hebt en dat alleen Jezus je die hulp kan bieden. Alleen als je tot die erkenning van die waarheid komt, dan is er echte vrijheid in zicht. Ik moest daarbij denken aan een regel uit een lied van Bob Dylan ('Jokerman' 1983): 'Freedom just around the corner for you, but with truth so far off, what good will it do?'. Aan de andere kant, met wat Han op pag. 15 schrijft ben ik het bijna eens. Han schrijft daar: 'Willen we echt vrij zijn? Hebben we God niet uitgevonden om maar niet vrij hoeven te zijn? Tegenover God zijn we allemaal schuldig. Maar de schuld vernietigt de vrijheid. Als we schulden vrij zijn, moeten we echt handelen'. Misschien gaan we permanent schulden aan opdat we niet hoeven te handelen. dat wil zeggen niet vrij niet verantwoordelijk hoeven te zijn'. Echter, als Han i.p.v. te schrijven 'Hebben we God niet uitgevonden om maar niet vrij hoeven te zijn' had geschreven: 'Hebben wij God niet terzijde geschoven, van ons af geworpen, om maar niet vrij te hoeven zijn', dan zou ik het volledig met hem eens geweest zijn.
Han Hekelt het moderne fenomeen 'Big Data' en deelt hierbij rake klappen uit. De rol van 'Big Data' neemt alsmaar toe. De hoeveelheid data die wordt opgeslagen reist tegenwoordig de pan uit. Dit veroorzaakt de consument deels zelf omdat steeds meer bestanden, zoals foto's en films (op o.a. Facebook en You Tube) opgeslagen worden. Er zijn echter ook steeds meer apparaten die zelf data verzamelen, opslaan en uitwisselen. Deze data bevatten een schat aan informatie die voor allerlei doeleinden (vooral marketing) gebruikt kan worden, vandaar de term 'Big Data'.
Han ziet hierin terecht een groot gevaar want schrijft hij op Pag. 19: 'Big Data kondigt het einde aan van de persoon en de vrije wil. Devoot betekent onderdanig. De smartphone is een soort devotionalium, sterker: het devotionalium van het digitale bij uitstek. "Like" is het digitale amen. Terwijl we like aanklikken, onderwerpen we ons aan de machtscontext. De smartphone is niet alleen een effectief toezicht apparaat, maar ook een mobiele biechtstoel. Facebook is de Kerk, de mondiale synagoge van het digitale'. Big Data maakt prognoses over het menselijk gedrag mogelijk. Het geraffineerde ervan is dat 'Big Data' dit niet doet tegen de wil van de mens in maar juist met diens toestemming'. Han schrijft dan ook op pag. 22: 'De gewiekste, vriendelijke macht opereert niet frontaal tegen de wil van de onderworpen subjecten in, maar stuurt hun wil in hun voordeel. Ze zegt eerder ja dan nee, ze is eerder verleidend dan onderdrukkend. Ze verleidt in plaats van te gebieden. Ze spoort ons aan permanten mee te delen, te delen, deel te nemen, onze meningen, behoeften wensen en voorliefdes te communiceren en over ons leven te vertellen'. Dat alles in de naam van de .g. transparantie.
Maar Big Data gaat nog veel verder, want op Pag. 29 schrijft Han: 'Uit Big Data kun je niet alleen het individuele maar ook het collectieve psychogram, zo mogelijk het psychogram van het onbewuste opstellen. Daardoor zou het mogelijk zijn de psyche tot in het onbewuste te belichten en uit te buiten'.
Dat gebeurt dan ook want de neoliberale psychopolitiek legt volledig beslag op de technologie van het zelf.. Het 'zelf' moet voortdurend geoptimaliseerd worden. Als paddenstoelen schieten ze dan ook uit de grond: de zelfmanagementworkshops, motivatieweekeinden, persoonlijkheidsseminars, mentale trainingen enz,. met slechts één doel: een grenzeloze zelfoptimalisering en efficiëntie verhoging. Alle blokkades, zwaktes en fouten die dit proces in de weg staan moeten door therapieën opgeruimd worden. Han heeft gelijk wanneer hij op pag. 38 schrijft dat deze neoliberale zelfoptimalisering fanatieke, ja zelfs religieuze trekken vertoont. Omdat ik zelf protestant ben, triggert mij wat Han schrijft op pagina 38: "Het eindeloze werk aan het ik lijkt op de protestantse zelfbespiegeling en protestants zelfonderzoek, die op hun beurt een subjectiverings en machsttechniek vormen. In plaats van zonden wordt er nu naar negatieve gedachten gespeurd. Het ik worstelt opnieuw met zichzelf als met een vijand". Han miskent hier- waarschijnlijk onbedoeld- het werk van de Heilige Geest in de gelovige. De Heilige Geest brengt mijn zonden en tekorten voor mijn bewustzijn. Hij doet dat niet om mij te onderdrukken en mij opnieuw weer te onderwerpen aan een machtstechniek zoals Han schrijft, maar om mijn binnenste te vernieuwen en mij (mijn ego) te bevrijden van allerlei vormen van slavernij waaraan we van nature allemaal vastgeklonken zitten. Hij wijst mij zodoende de weg naar de echte vrijheid. Want dat is nu juist het grote verschil met de neoliberale psychopolitiek. Deze politiek verandert niet het hart van de mens. Integendeel, onder het mom van vrijheid en transparantie wordt het menselijk lichaam en de menselijke ziel tot een totale slavernij gebracht. Maar de Heilige Geest bevrijdt mij wél, door Zijn kracht wordt mijn hart nu zo veranderd dat ik nu ook het goede wil doen.
Han heeft overigens wel gelijk wanneer hij op pag. 62 schrift: 'Het dataïsme is als filosofie in opmars en treedt op met de nadrukkelijkheid van een tweede verlichting' en op pagina 63: 'Transparantie is de leuze van de tweede verlichting. De imperatief van de tweede Verlichting luidt: alles moet data en informatie worden. Het dataïsme dat gelooft elke ideologie achter zich te kunnen laten is zelf een ideologie. Het leidt tot een digitaal totalitarisme. Wat dan ook nodig is, is een derde Verlichting , die ons duidelijk maakt dat de digitale verlichting omslaat in slavernij'. Die verslaving aan informatie waar Han het over heeft is overal zichtbaar als je goed om je heen kijkt. Let bijv. eens op, als leerlingen van het voortgezet onderwijs s 'middags de school verlaten en naar huis fietsen. Hun blik is niet gericht op het verkeer maar strak gericht op hun mobieltje. Om maar niets te hoeven missen. Die verslaving aan informatie gaat de hele dag door en tot vaak diep in de nacht. Veel tieners hebben psychiatrische hulp nodig om van hun internet verslaving af te komen.
Maar het gaat nog veel verder. Han noemt dit op pagina 65: 'self knowledge through numbers'. Hierbij wordt het lichaam voorzien van allerlei sensoren die automatisch data registreren. Gemeten wordt: lichaamstemperatuur, bloedsuikerwaarden, calorietoevoer, calorieverbruik, bewegingsprofielen of percentages vet van een lichaam. Han (pag. 65) concludeert: "Zodoende lijkt zelf-tracking steeds meer op zelf toezicht. Het huidige subject is een ondernemer die zichzelf uitbuit. Elke klik, elk zoekbegrip wordt opgeslagen, geobserveerd en geregistreerd. Gecontroleerd worden we door de dingen die we elke dag gebruiken". De praktijken van Orwell's 'Big Brother' verbleken daarbij. 'Big Brother' kon nog wel eens iets vergeten, maar 'Big Data' vergeet werkelijk niets. Han noteert (pag. 69) dat het databedrijf Acxiom handelt in persoonlijke data va ongeveer de 300 miljoen VS-burgers, dus bijna van de hele Amerikaanse bevolking. Acxiom schijnt inmiddels meer te weten over de burgers dan de FBI. Er ontstaat volgens Han door deze praktijken een nieuwe maatschappelijke tweedeling, een nieuwe digitale klassenmaatschappij. Mensen met een lage economische waarde worden bestempeld als 'waste',als vuilnis. Consumenten met hogere marktwaarde zijn ondergebracht in de rubriek: 'shooting star'. Op die mensen richt de commercie zich. Zo ontstaat (pag. 70) naast een 'panopticum' ('Big Data' is het 'panopticum' dat alles ziet en registreert) nu ook een 'banopticum', een totale uitsluiting, met als resultaat dat mensen met een slechte score met één druk op de knop in de 'ban' worden gedaan en bijv. worden uitgesloten van kredieten. Wellicht zonder dat Han en de moderne beleidsmakers het beseffen, kan op deze manier zo maar werkelijkheid worden wat we in de Bijbel lezen in Openbaring 13:16,17. We lezen daar dat in de eindtijd alleen die mensen nog bevoegd zijn om te kopen en verkopen als zij de naam van het Beest of zijn getal 666 als merkteken op hun voorhoofd of rechterhand getatoeëerd hebben.
Han maakt het duidelijk dat de eerste Verlichting (met de opkomst van de statistische methode) het ware geluk voor de mensheid niet heeft kunnen brengen. De huidige -tweede Verlichting –de neoliberale digitale revolutie- is daar al evenmin toe in staat. Sterker nog, door de totale controle van deze nieuwe revolutie over zowel het menselijk lichaam als de menselijke ziel, door deze psychopolitiek is de mens meer dan ooit een slaaf van zichzelf geworden.
Han laat er in dit boek geen gras over groeien. Han gaat te keer tegen het hedendaags positivisme.
Maar wat is er nu volgens Han fundamenteel verkeerd gegaan? Hoe heeft het zover kunnen komen? Volgens Han is dat het gebrek aan 'geest'. We leven in een wereld waarin elke verticale spanning ontbreekt. Han verwoordt dit op pagina 73 zo: ' Big Data is puur optellend en komt nooit tot een gevolgtrekking of tot een afsluiting. Zonder geest vervalt de wereld in louter optellingen. De totale data kennis is een absolute niet-kennis op het nulpunt van de geest. Totale versnelling vindt plaats in een wereld waarin alles optelling is geworden en elke vertellende spanning, elke verticale spanning verloren is gegaan'. Het lijkt alsof Han met de uitdrukking 'verticale spanning' wil zeggen dat er meer is tussen hemel en aarde dan we kunnen zien en waarnemen. De puur materiele weg loopt kennelijk telkens weer dood en zonder erkenning van de spirituele dimensie komen we geen stap verder, integendeel, we zinken steeds verder weg in het moeras. Wat zet Han daar nu tegenover? Han wijst dan op de weg van het z.g. 'idiotisme'. Bij dat woord 'idiotisme' moeten we onwillekeurig denken aan de roman van Dostojewski 'De Idioot'. Wie is dan die idioot bij Han?. Op pag. 81 schrijft Han dat het de functie is van de filosofie –dus kennelijk ook van Han zelf – om voor idioot te spelen. Han zegt: 'Elke filosoof die een nieuw idioom, een nieuwe taal, een nieuw denken voortbrengt, zal noodzakelijkerwijs een idioot geweest zijn. Alleen de idioot heeft toegang tot het geheel andere'. Op pag. 83 zegt Han: 'De idioot heeft de moed af te wijken van de orthodoxie. Moedig verlost hij zich van de conformiteitsdwang. De idioot communiceert met het niet-communiceerbare. Zodoende hult hij zich in zwijgen. De idioot creëert vrije ruimtes van het zwijgen, van de stilte en de eenzaamheid, waarin het mogelijk is iets te zeggen wat het werkelijk verdient gezegd te worden. Een verticale spanning stelt de idioot in staat tot een hogere overeenstemming, die hem ontvankelijk maakt voor gebeurtenissen, voor uitzendingen vanuit de toekomst'. Hier laat Han duidelijk zien dat hij een oosterling is, die, misschien wel meer dan hem lief is, beïnvloed is door het boeddhisme. Het klinkt wel religieus, woorden als 'vrije ruimtes van het zwijgen' 'hogere overeenstemming', 'gebeurtenissen' 'uitzendingen vanuit de toekomst'. Tegelijkertijd is het heel erg vaag en onpersoonlijk. Een persoonlijk God die alles regeert komt bij Han niet in beeld.
Soms lijkt het of Han dicht bij het evangelie uitkomt. Dat blijkt uit een veelzeggend zinnetje van Han op pag. 81: 'De oude idioot wilde het ware, maar de nieuwe wil het absurde verheffen tot de hoogste macht van denken'. Het evangelie kan je ook een soort van oud 'idiotisme', een soort van 'dwaasheid', noemen maar dan voor bepaalde mensen. Dat bevestigt Paulus in 1 Korintiërs 1:18: 'De boodschap over het kruis is dwaasheid (een idiotisme) voor wie verloren gaan, maar voor ons die worden gered is het de kracht van God'. En in vers 21 schrijft Paulus: 'Want zoals God in zijn wijsheid bepaalde, heeft de wereld hem niet door haar wijsheid gekend, en hij heeft besloten hen die geloven te redden door de dwaasheid ( het 'idiotisme') van onze verkondiging'. Dat oude idiotisme van het evangelie wilde inderdaad 'het ware' want alleen de echte 'waar'-heid leidt tot echte vrijheid, zoals we boven al schreven. Jammer dat Han het evangelie heeft af geserveerd als een repressief systeem. Nu geef ik Han toe dat sommige kerken, pausen, er inderdaad een repressief systeem van hebben gemaakt. Maar als je terug gaat naar de bron zelf, naar Jezus dan tref je geen repressie aan. Integendeel, bij Hem tref je liefde en compassie en opofferingsgezindheid aan in de meest zuivere vorm. Dat evangelie hult zich niet in vaagheden maar is concreet. Het is gebaseerd op de feiten van kruis en opstanding. Deze 'dwaasheid', dit 'idiotisme' is het enige idiotisme dat geloofwaardig is. Geloofwaardig omdat het niet gebaseerd is op luchtfietserij maar op concrete feiten die overgeleverd zijn door betrouwbare getuigen.