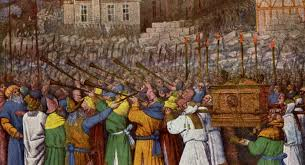 Voor wie ben je? Israël of de Palestijnen?
In Jozua 5:13,14 (NBV) lezen we: 'Toen Jozua eens in de omgeving van Jericho liep, zag hij plotseling een man tegenover zich met een getrokken zwaard in de hand. Jozua ging op hem af en vroeg: 'Hoor je bij ons of bij de vijand?'. De man antwoordde: 'Bij geen van beide, ik ben de aanvoerder van het leger van de HEER'.
Bob Dylan heeft in 1962 een lied geschreven met als titel 'With God on our Side'. Hierin beschrijft hij hoe oorlogen en conflicten een spoor van bloed vergieten door de geschiedenis getrokken hebben. Of het nu de miljoenen Indianen waren die vermoord werden, de vele doden in de Amerikaanse burger oorlog, de miljoenen doden in de eerste en tweede wereld oorlog , iedere natie of bevolkingsgroep was er vast van overtuigd God aan zijn zijde te hebben in die oorlog of in dat conflict. 'God wil het' was de strijdkreet van de Kruisvaarders.
Als we nu naar bovenstaande tekst kijken, dan is het merkwaardig dat God door de aanvoerder van het leger van de HEER aan Jozua laat weten dat God in deze oorlog geen partij kiest. Hoe kan dat? Jericho moest toch in opdracht van de HEER op de Kanaänieten veroverd worden, dan kan het toch niet anders of God staat aan de zijde van Israël?
De NBV heeft hier vertaald 'Bij geen van beide'. In het Hebreeuws staat er maar één woord : 'Lo'. 'Lo' betekent letterlijk: 'niet', vaak vertaald met 'Neen' (SV). Toch geeft de vertaling van het NBV 'Bij geen van beide' de juiste bedoeling weer. Als aanvoerder in dit geval 'Neen' of 'niet' zegt, dan bedoelt de Engel dat hij geen partij kiest. In feite zegt hij dat God geen partij kiest. Jozua ziet deze oorlog kennelijk als een oorlog van Israël . Een oorlog om de Israëlitische belangen te dienen en dus moet God wel tegen de Kanaänieten zijn. Maar zo simpel ligt dat niet. God laat zich niet achter de wagens van mensen spannen die zo hun eigen bedoelingen hebben. Van eigen oorlogen gruwt God en Hij geeft daarvoor nooit sanctie, ook al ligt er een landbelofte van God zelf. Het is nl. Gods oorlog. En dat niet omdat God oorlog wil want God wil nooit een oorlog voeren zoals mensen een oorlog voeren. De Kanaänieten hebben God nl. de oorlog verklaard. Ze willen hoe dan ook voorkomen dat Israël het beloofde land binnen trekt. En daarachter zit een satanisch plan. Als dat volk vaste voet krijgt in het beloofde land, dan kan uiteindelijk de beloofde Messias komen. Dat willen die volken verhinderen, desnoods over hun lijk. Maar dat kan God niet laten gebeuren, want God wil zijn onuitsprekelijke liefde en barmhartigheid tonen in de Messias en Hij laat -net zoals destijds bij de uittocht uit Egypte - Zijn barmhartigheid niet tegenhouden.
Nu de Messias is gekomen verandert er veel. We leven sindsdien in de tijd dat zwaarden tot ploegscharen zijn omgesmeed. Zo behoort het althans te zijn. We hebben nu zicht op het hemelse Jeruzalem dat uit de hemel neerdaalt op aarde. Alle aardse landclaims op het land van een ander, komen hierdoor te vervallen. Nog méér dan voor de komst van Christus, geldt nu dat ieder volk een ander volk zijn plek op aarde moet gunnen. Dat geldt voor Indianen en Aboriginals, voor Koerden en Turken, voor Israëliërs en Palestijnen. Er bestaat daarom niet meer zoiets als een rechtvaardige oorlog. Zijn we daarmee Pacifist geworden. Weg met alle legers? Een soort 'gebroken geweertje 2.0'? Nee , dat nu ook weer niet. We leven nl. nog steeds in een gebroken wereld. Agressie, landjepik, terreuraanslagen, ze blijven helaas voorkomen. Tegen agressie en terreur mag je je verdedigen. Sterker nog, een overheid moet zich daartegen verdedigen en zijn burgers beschermen. Het verschil wordt veelal bepaald door de vraag wat jouw land heeft: heeft het een Ministerie van Oorlog of een Ministerie van Defensie? Een Minister van Oorlog of een Minister van Defensie?.
'Geen van beide' was toen het antwoord aan Jozua, ondanks de landbelofte. Daarom als je nu vandaag weer die vraag stelt: voor wie ben je? Voor Israël of de Palestijnen?, dan moet weer het antwoord zijn: 'Voor geen van beide'. We staan nu nl. voor een andere keuze, want Jezus zegt in Luc 11:23: ''Wie niet met mij is, is tegen mij". Wie niet voor Jezus kiest, kiest voor Zijn tegenstander Beëlzebul. Hier moet je wel kiezen. Als dezelfde vraag die aan Jozua gesteld werd: : 'Hoor je bij ons of bij de vijand?' nu ook vandaag aan ons gesteld wordt, dan moet ons antwoord zijn: "Ik hoor bij Hem, bij Jezus". En daarmee kies je voor Zijn rijk van vrede.